Newsletter: Christmas 1999
Winter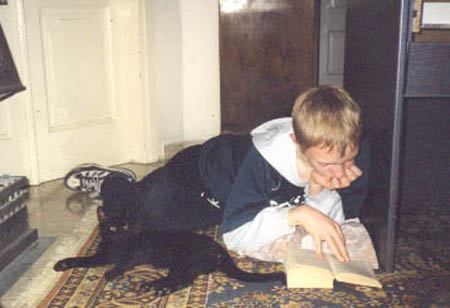 Winter in Cyprus isn't really cold - certainly not by Colorado standards! - but with draughty windows and no real central heating, even 5C (usually the lowest night-time temperature) can feel very chilly.
Our house is equipped with a central kerosene stove which we used extensively during January and February. In January Richard was particularly busy with the filming of the 'Discovery Course', a video series which has dominated most of the year! Some of the recording was done in our house, some around Cyprus, and some later on in the year in Middle Eastern locations.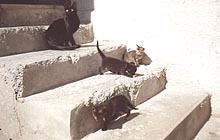 In February we had a shock when we realised that our cat Cleo was about to produce kittens: we were worried that she wanted to build her 'nest' on top of our kitchen cupboards, but thankfully when the time came Sue managed to persuade her to give birth in a box in front of the kerosene stove.
Cleo, despite being only about eight months old at the time, proved to be a wonderful mother and took great care of her three kittens.
Spring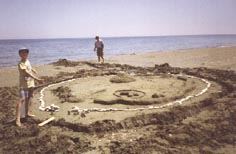 Spring arrives slowly in Cyprus; there are few bulbs and little blossom, since the fruit trees bloom at a variety of times. But gradually we realised that we were shedding heavy sweaters and no longer using the stove. Sadly one of the kittens died in April, but the other two continued to grow and thrive and somehow we found that we didn't want to find other homes for them after all. Hotels and shops near the beaches started refurbishing ready for the Summer tourists, and we had our first guests of the year. We took our visitors to the beach, and once again the boys built complex cities rather than simple castles! We had begun to acclimatise and found the sea still rather chilly although the sun shone most of the time and the days were getting longer.
Summer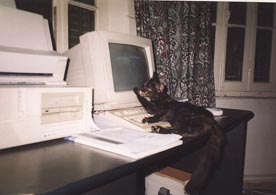 By early May we were beginning to slow down as Summer arrived, bringing high temperatures and humidity. It wasn't actually as hot as it was in 1998, and we were thankful for a gift that enabled us to put an air conditioning unit in our main living room.
It meant that Sue and the boys spent almost all their time in this room for the Summer months, but it made life much more bearable. We (and the cats!) spent a lot of time working on our family web sites, reading, writing and doing puzzles.
Autumn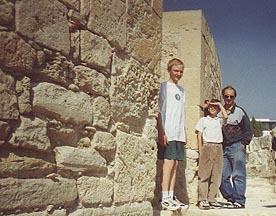 Autumn is the birthday season in our household: this year Daniel was 13, a real teenager at last, and Tim became 11. Daniel has grown enormously in this year, now the same height as Richard, and hoping to catch up with some of his tall uncles by his next birthday. Daniel has continued in his ambition to be a computer programmer and graphic artist: he has joined a group of game writers on the Internet and learned to use various graphics and programming packages, some of which he describes at his web site . He also managed to win two short-story competitions this year, and has continued playing both clarinet and piano, as well as drawing in charcoals, painting in acrylics, and experimenting with his airbrush.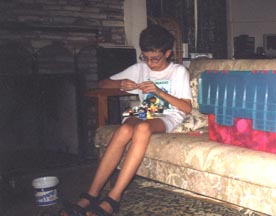 Tim now has his own web site too, where he describes some of his diverse interests. He is still playing the piano and also learning the guitar. He is being taught classical style guitar, but is teaching himself to strum and play songs in the church music book. He still loves to sing, and his favourite computer programs are music ones. Both boys enjoy lego building; they spent many happy hours with their Canadian friends building houses and spaceships. We were sorry to say goodbye to them when they returned to Canada, but an American home educating family with young children arrived in early November, and we are enjoying getting to know them.
Winter again
So back to Winter, and a recent cold spell has meant that we've started lighting the kerosene stove again, much to Cleo's delight. The last few weeks have been enlivened by Daniel fracturing his left arm: not seriously, but it limited his music for a while. In the meantime Timothy gathered together various old parts of computers which were going to be thrown away, and managed to build himself another basic computer; it doesn't run many programs but has been an interesting project.
We're going to be back in Birmingham for Christmas, so the first part of December has been a rather hectic preparation for leaving, with Richard trying to complete the Discovery Course ready for distribution, and update the online VTV catalogue. The boys are both in the annual Town Hall concert in Larnaka, again, the night before we fly home. Timothy is singing with the choir and has two solos; Daniel will be playing his clarinet. We shall be in the UK for seven weeks in all, in our own house most of the time, since the Lewis Family who have lived there for the past two years are going back to Australia. Their replacements will be arriving just before we return to Cyprus.
2000 and beyond
It's difficult to plan too far ahead in such an uncertain world, but Richard believes that this is the right ministry for him to fulfil his calling and his gifts, and would like to stay long-term. Home education has proved to be an exciting adventure for Sue and the boys, and although Tim considered going to a local secondary school next September, he is becoming more committed to learning at home long-term.
We shall be looking at GCSE courses for Daniel by correspondence soon: these can be done over several years rather than having the pressure of several exams all at once. Home education is a growing movement in the UK: if you want to read more about it, look for the book 'Free Range Education', to be published in the Spring. Sue has written a chapter and both boys contributed short articles.
With our love, and best wishes for a Happy Christmas and New Millennium.
Richard, Sue, Daniel and Timothy