Newsletter: Christmas 2000
The long-awaited Year 2000 seems to have rushed past, and it's a shock to find ourselves in December already. For our family this has been an interesting year.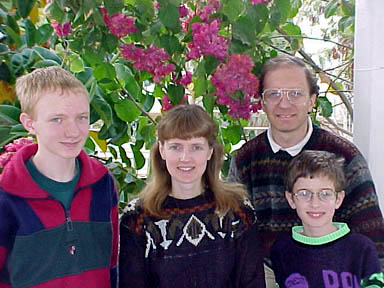 Sue celebrated her 40th birthday in April, a day early (when her sister and family were with us) and we enjoyed a few days away on our own for our 20th wedding anniversary in July.
A generous gift from Sue's grandmother enabled us to pay off the last of the mortgage on our house in Birmingham in August, and also to buy a car – the first one we have had in Cyprus. And a series of events led to Richard's ending his secondment to VTV/MECO at the end of September, beginning a new ministry at the start of October.
We began the year in the UK, at a New Year's Eve party at our home church, St Stephens Church Centre in Birmingham. It had been wonderful to spend Christmas 1999 with Sue's family, including her grandmother who came down from Scotland. And it was also good to see the New Year in with a brief communion service with our church family. We were able to live in our own house, as the previous people staying there had gone back to Australia, and the next people were not due to arrive until the end of January. We unpacked our stored boxes, and rearranged books, piling up dozens more to bring back to Cyprus.
In January, Tim was able to go back to 'his' class at St Francis School, for a month, where he enjoyed seeing his friends and being part of the school community again. Sue went in a few times to help, and Daniel joined her, feeling a little strange at first in his role as an ex-pupil! Tim was pleased to find that he had not fallen behind academically during his years being home educated, and became more enthusiastic about home learning than ever before. We were able to get together with several of our local friends, and met one family of (home educated) email friends, which was a delight for us all.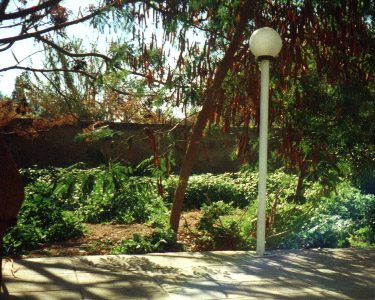 February saw us back in a surprisingly chilly Cyprus. It had also been wet: although we had left our back garden in a reasonable state, we returned to find it almost completely covered in weeds, about 40cm high. We even took a photo just to prove that we weren't exaggerating!
Gradually the weather warmed up, until by April, when Sue's sister and her family came out for a fortnight, Cyprus was at its most pleasant – sunny, warm but not too hot, not yet humid. It was thrilling to see them, particularly because Joey (2) had a series of medical problems during her first 18 months, mainly involving her heart, which meant that she had been unable to travel in planes – or indeed out of easy reach of a good hospital with facilities for heart patients.
We were glad of the break from routine, because May and June were difficult months, particularly for Richard as some unfortunate misunderstandings arose in the office. This was coupled with his increasing desire to serve God more directly in the Arab-speaking world, working with church-planting teams and evangelists, as had been his vision for the past five or six years. He was finding that his role in VTV was mostly administration, and was getting nowhere with fund-raising, although our personal support continued to increase. So after much discussion and prayer, he gave three months' notice at the start of July, and began to work towards starting the new ministry.
Meanwhile Daniel was approaching 14, and would have been at the end of Year 8 if he were at school in the UK. After some research, we found that an American course called ACE (Accelerated Christian Education) has a UK branch providing the National Christian Schools Certificate (NCSC), a diploma acceptable at British universities in place of GCSEs and A-levels.
The course uses frequent tests rather than major exams, and is ideally suited for families in our situation. After much discussion with friends who were using this course, we decided to register both boys – Tim wanted something a little more structured anyway. An unexpected further increase in our support, coupled with the British DHSS deciding that we were, after all, eligible for child benefit (and back-dating it to October 1997!) confirmed our decision.
We were able to spend two and a half weeks in the UK during the Summer. Richard attended an international conference in Canterbury, where he met several team leaders, and was encouraged strongly to continue in his new ministry. Sue and the boys spent nearly two weeks with Sue's parents in Birmingham, and Richard joined them after his conference.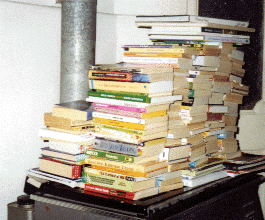 He was exhausted for the first few days but we were able to see a few friends and visit the Church Centre where he shared something of his vision and plans. We then spent a few days with Richard's mother in Sussex before flying back to the heat of the end of August in Cyprus. It had all been rather rushed and we found that many of our friends were away, but it was good to see our families again. Once more we returned to Cyprus laden with books!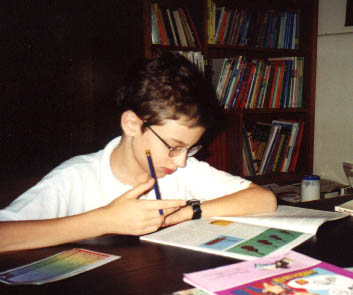 When we returned, the boys started on the ACE coursework almost straight away as it was really too hot to do anything else. It took a while to get used to the style, and for Sue to find a system of storing finished tests (which must be submitted to the NCSC college once a year). Tim is mostly enjoying the work, Daniel is finding it rather dull – but working rapidly through the earlier workbooks in the hope of it becoming more interesting at the higher levels.
They find that two or three hours each day are sufficient to cover the course work, at least at present, and Daniel spends much of the rest of his time in programming and web page design. He has been able to help Richard on one or two projects recently and is joining the team of illustrators on the British 'Young Writer' magazine.
The three feline members of the family have kept in good health and spirits, becoming almost entirely nocturnal through the summer months, although they are now back to sleeping on our beds at night and being more active in the daytime. Though fully grown, they still surprise us at times with their kitten-like exploration of unusual places.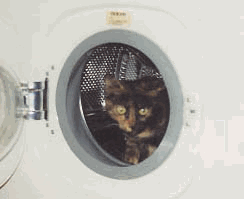 This photo shows Sophia wondering what the washing machine was like inside. She tried walking around the drum, a little like a hamster on a wheel, before deciding that the top of the bookcase was a more comfortable place to sleep. More recently some of the feral kittens from our garden – probably only a few months old – have become friendly, although we are not intending to adopt any more cats!
Richard has been working hard since the start of his new ministry, completing a promotional video for the UK organisation, helping another mission group with some sub-titling, and doing considerable research. He is likely to have a trip to the United Arab Emirates in the New Year and will be hoping for more people to join him in Cyprus next year.
Sue has continued writing, and is delighted that the book 'Free Range Education', for which she wrote a chapter, and both boys wrote articles, is finally available. If you're at all interested in home education, and how several different families approach it, this book is well worth reading. It's edited by Terri Dowty, published by Hawthorn Press, and the ISBN is 1903458072. Meanwhile Sue has been building more web sites and also writing for an online (paying) publishing site.
Music continues to play an important part in the boys' lives, with Daniel still playing the clarinet in church and – at last – having joined the local town band. His first concert will be just before Christmas. The band rehearses two evenings per week, so he was glad that we now have a car! He no longer plays the piano, but Timothy is still learning and enjoying both piano and guitar, and is also in the inter-church Christmas choir, who will be singing in the Town Hall in mid-December.
We have not had as many guests as usual this year, although we have some already booked for 2001, and as I write we are awaiting Sue's brother and sister-in-law who have had to postpone their holiday here twice. Last week we had torrential rain for three days, so we are hoping that it will be better while they visit us. Please do let us know if and when you would like to come and stay!
Wishing you a joyful Christmas and a happy new year!
With our love,
Richard, Sue, Daniel and Timothy