Newsletter: Christmas 2002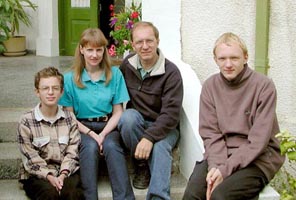 Christmas greetings from Cyprus. As the sun shines - although with a definite chill in the air, and extremely cold nights - it's hard to imagine that Christmas is so close, even though we've now been here five years and should be used to the climate.
The years seem to fly by faster than ever; the arrival of our first Christmas card in mid-November prompted us to think about our newsletter. How has 2002 been different from previous years? Or was it just another, like all the rest?
2002 has been...
A year of theatre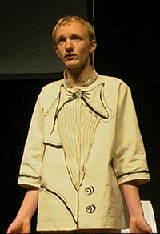 In February, Daniel decided to join a local drama workshop, Theatre Antidote. A couple of hours a week, and a performance in June… or so we thought! He was soon caught up in a play which was entered in an international competition, and given one of the most important parts. Rehearsals took up other evenings, and Richard became involved as he was asked to film the première.
To everyone's delight, they won their category, and were invited to London in July to perform at the National Theatre! Richard got more involved, initially advising, then helping with lighting and sound, and was asked to be the stage manager for the performance. During late July and August some other members of the group performed one of their Christmas plays at a hotel in the next town; Daniel helped behind scene, Richard and Tim did the lighting.
Because Daniel isn't tied into a school schedule, he was asked if he would like to be in this year's Christmas play, based loosely around the story of the Frog Prince, performing with three adults. There were a lot of rehearsals and the première on December 7th was a delight. Five more performances are happening around the island in December, then several more in January. Tim has so enjoyed learning about theatre lighting that he's going to be doing the lights and sound for all these performances, helped initially by Richard.
A year of public Christian commitment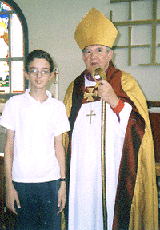 In the Spring, Timothy decided to attend confirmation classes at the local Anglican church, since he had been playing the organ there a few times over Christmas, and had become quite friendly with the Vicar. Due to the Bishop of Cyprus and the Gulf being fairly busy, the actual service was not until August.
A couple of months later Daniel - who decided not to remain officially an Anglican! - opted to be baptised by full immersion in the sea, the normal practice at the church we attend. This happened early in November, when the sea was still warm: a short service at the beach after a regular morning service.
A year of house painting
In the Spring Richard repainted the white window-sills on the outside of the house, which were extremely tatty. Really the whole of the outside needs painting, but that's a job for professionals and it's a rental house that will eventually be knocked down to make room for flats. In the Autumn our landlady finally managed to find a firm who could mend our roof properly; after three heavy rainstorms with no more drips into the dining room or Tim's bedroom, we decided to do what we had long wanted to do, and redecorate the inside of the house.
We started the last weekend of September, when the weather was becoming less humid and not quite so hot; we hope to have everywhere finished by Christmas. Since the ceilings are four metres high, and mostly needed a coating of dilute PVA adhesive to stop the paint flaking off, it hasn't been an easy job - however it does look a great deal better.
A year of juggling
In the Spring, Daniel decided to learn to juggle properly. He had a 'lesson' from one of his uncles in July 2001, giving him a few hints. Having started, and become - after much practice - proficient in simple three-ball juggling, he found some relevant Internet sites and taught himself some more complicated techniques. In London in the Summer he was inspired again by some street entertainers, and came back to learn yet more tricks, using some new equipment as well as the traditional soft juggling balls.
A year with no 'new' visitors
Although we were delighted to have Sue's parents to stay for a fortnight in March, two friends for a fortnight in April, and Richard's mother for a week in November, plus a few other friends for odd nights, this is the first year when we did not have anyone here for a first visit. Indeed, it's the first year when we did not have any visitors at all in the British half-term breaks. So if anyone would like to come in 2003, you would be most welcome. So far our only 'booking' is for the last two weeks of February.
A year of car problems
In May a little bump led to a broken bumper (obviously brittle) which Richard held together with parcel tape for some months, until we found somewhere which could replace it with a good quality second-hand one. In the meantime we lost the driver's side wing-mirror - broken off and removed, probably by some builders. Thankfully the same company found and fitted a second-hand mirror.
Within two weeks of our getting the car back, looking almost good as new, we broke down on the motorway on the way to the next town. The Cyprus Automobile Association rescued the car, a kind friend rescued us and lent us their car for a week, but our car had to undergo extensive (and expensive!) engine repairs. A leaking oil seal had broken a belt, which had caused all the valves in the engine to break, as well as the water pump.
Thankfully, labour costs are considerably cheaper than in the UK, and when the parts cost more than we were quoted, the mechanic decided not to charge us anything at all for labour! Other than this, the car has continued to run well; at 12 years old it's still younger than many of the cars we see, and more reliable than most.
Another year of home education
Otherwise life has continued as ever, hot in the Summer, now getting very cold in the Winter, with all-too-short comfortable seasons in Spring and Autumn. Home education is such a way of life to us now that we would not consider anything else. We enjoyed two short camping weekends in the mountains with some of the other home educating families at the start and end of the Summer, and have continued getting together monthly for some socialising and group activities.
We only had a short time in the UK in the summer, as we timed our annual trip to coincide with Daniel's performance in London. Richard had various meetings scheduled; Tim and Sue stayed briefly with Sue's parents and then Richard's mother, catching up with the family, but not seeing any friends other than at our one visit to the Church Centre in Birmingham.
Daniel should gain his first level 'National Christian Schools Certificate' diploma some time in the Spring. Timothy is working through the same programme, about a year behind at present. Daniel also continues with some web-site and programming work at home, including designing and maintaining the Theatre Antidote site, although he has been plagued by some arm and neck pain which have limited his computer activities for a few months.
Another year of music
The boys continue with music, playing regularly in the church worship band, which now has a weekly practice in addition to rehearsing before church on Sundays. Timothy recently had to switch temporarily from playing guitar to playing piano in church, since the regular pianist broke her arm after a bad fall in late November. It's clear that his playing has improved greatly in the past year, since he now plays, with confidence, songs which a year ago he considered far too difficult! He is, however, playing guitar to lead singing in a mid-week outreach group for students, and also sometimes in Sunday School.
As well as playing clarinet in church, Daniel has been playing in concerts with the municipal town band - from a rather boring national day in March, where band music was punctuated with lengthy speeches in Greek, to an excellent concert in November. He marched with the band playing funeral music on Good Friday for a traditional Cypriot event, where the Orthodox churches process carrying flower-strewn coffins. Slow-marching after dark while trying to read music by streetlights was quite a new experience!
Finally: Richard continues enjoying his work. Our garden is slowly getting tamed. Our four cats are still thriving: nocturnal in the summer, home-loving and sleeping on our beds in the winter.
With our love,
Richard, Sue, Daniel and Timothy