Newsletter: Christmas 2003
January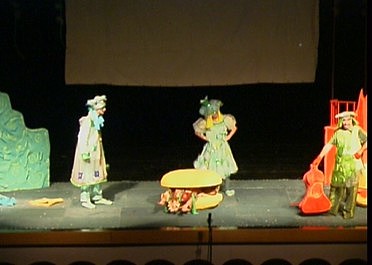 January is normally rather a dull month in Cyprus with a lot of grey skies and chilly evenings. However this year it was - for us - full of performances of 'The Frog Prince', the Christmas play put on by some of Daniel's drama group, Antidote, in which he took the title role.
Richard and Timothy were doing most of the sound and lighting. There were several performances in schools and theatres around the island, which were much appreciated by the various audiences. Tiring but fun for all.
February
Sue's parents came out for a fortnight in February, since flights in March were booked solid. Unfortunately we had one of our cold spells, meaning the overnight temperatures were down to under 10ºC and although there was some sunshine, it was quite chilly in the evenings.
March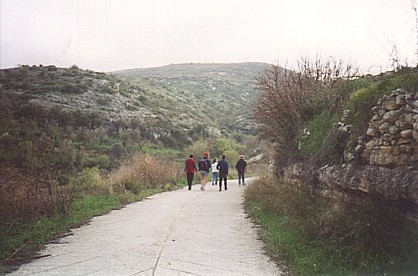 We had a lovely afternoon with the island-wide home education group, on what felt like the first warm day of the year. We went to Kritou Terra, a tiny village in the hills beyond Paphos.
One of the families who had lived there for a couple of years, who had been an enthusiastic part of the group, were moving back to the UK. We were very sorry to see them go but had a relaxing time and most interesting walk.
We were also able to spend some time with a British home educating family who were in Larnaka for a few days. Marching season got off to a good start towards the end of the month, with the Municipal Town Band (in which Daniel plays clarinet) marching on a chilly day, leading the various uniformed organisations and schools from a location near our house down to the sea-front.
April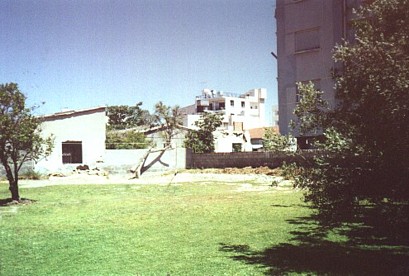 After the wettest winter for many years, our garden looked wonderfully green by the beginning of April. Mostly weeds, but we cut them about once a week with the lawnmower, and from a distance it looked quite attractive!
We worked hard to get rid of the worst of the long weeds which we'd never tackled before, and felt that the garden was almost under control by the end of the month.
For the first time ever, Sue's birthday fell on Easter Sunday. Richard had been in Egypt all week and flew back, arriving at 8am on Easter Day. He even came to church with us at 9am. Eight days later, our congregation celebrated Greek Easter Monday with the local Greek Evangelical church, with a meal in the church grounds.
May
Daniel took the Grade 5 RSM clarinet exam (at last!) and the Grade 7 Guildhall drama exam in May. He did well in both, despite some problems with the clarinet exam meaning that he had to play without a piano accompanist. In the drama he achieved Honours, along with most of the group - this is equivalent to a good A/S level.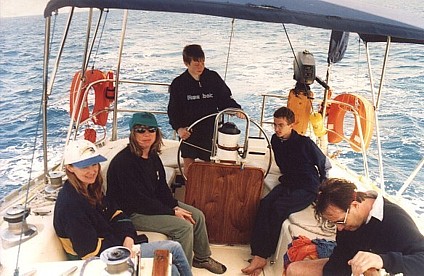 Perhaps the highlight of the year for Richard was when some friends came out from the UK for half-term week at the end of the month, and took us sailing for three days. This was an interesting experience, and quite tiring, but Richard had a wonderful time and would love to repeat it every weekend!
June
In June things always wind down a little, as the weather starts to get hotter - usually between 25 and 30ºC for most of the day. We were all thrilled that a couple in our church got married this month - the whole church was invited, and organised the food for the evening reception. It was a lovely day, with both boys playing in the music group, and Richard filming the service for them.
July
July is a bit of a dead month in Cyprus, with extreme heat and humidity, and all regular activities closing down. The boys went to a camp in the mountains with the youth group; a week later we all spent a weekend camping with a few of the other home educators from around the island.
We spent the rest of the month trying to stay cool in the air-conditioning, apart from one day when we went over the border to North Cyprus for the first time. Some friends of ours were there for a few days' holiday. It was great to see them, but crossing the border in Nicosia in 30ºC heat (with a 2-hour wait, in all) was not fun!
August
Our church pianist and her family left in August, to work in another country. This meant that Tim became the main pianist, rather to his reluctance at first since he likes playing guitar in church. However nobody else came forward, and everyone was impressed with his ability, so he's stayed with it - at least for now.
At the end of the month some more friends came out for a week. This is the first time we've had guests in the Summer, and we were a bit concerned that there would not be much for them to do, as it was too hot to walk anywhere. However they rented a car for the week, and visited places like Water World as well as having a daily trip to the beach for swimming. It worked out very well - so if you feel like coming here when it's really hot, let us know!
September
We spent almost all of September back in the UK, since Sue's brother Stephen was getting married. We spent some of our time in Sussex with Richard's mother, and some in Birmingham with Sue's parents. It was wonderful to see some of our friends - we're only sorry we couldn't manage to see more of you.
The weather turned out to be excellent, and the day of the wedding was gorgeous and sunny, with the temperature up to 26ºC. It was lovely to catch up with the extended family. Richard was quite busy, at meetings and buying equipment that he can't get in Cyprus. We had to send some boxes back by sea freight, so we took advantage of this to collect yet more books from our house in Birmingham to bring out to Cyprus.
October
We arrived back on the first of October, and went straight into regular activities. It took a week or two to feel 'back to normal', but it seems as if the time has flown by since then. Daniel was promoted to playing the first clarinet part in the Town Band; he was also invited to join in this year's Antidote Christmas play, 'The Dancing Bear', with a small part this time. Tim was given a warm welcome back by the church worship leaders, since there had been nobody to play the piano for most of September.
Richard began to get very overwhelmed with work, pending the start of an Internet Radio Station aimed at people in the Middle East. This is extra complicated due to the technical facilities being in London and Cyprus, and the presenters in Egypt.
November
After several technical hassles, the Internet Radio station got going, and attracted 5,000 listeners within the first few weeks - despite no advertising! Unfortunately the person who was supposed to be spending time in Larnaka helping Richard with technical support was unable to do so, meaning Richard is almost constantly on call for technical problems.
At the end of the month, the Operation Mobilisation ship MV Doulos came to Larnaka port for ten days. Daniel had a very busy week when he was rehearsing for 'The Dancing Bear' nearly every morning, and volunteering on the MV Doulos every afternoon and evening, mainly working in their huge bookshop.
December
At last Daniel completed the final module of the 'National Christian Schools Certificate' (NCSC) level 1 - a sort of correspondence course giving a qualification roughly equivalent to 8 GCSE exams.
Despite having been here six years now, it's still difficult to feel as if Christmas is coming when the sun shines and some days feel like June in the UK. 'The Dancing Bear' had its première last weekend, and some more performances are coming up; next weekend will be the annual inter-church carol concert, with Tim on piano. A few days later, the Town Band will play carols outside, then on Christmas Eve we'll be singing in hotels.
2004
So as we come to the end of another full year, what do we hope for in 2004? Richard is longing for more people to join him in the office, which has been going through some difficult patches recently. Daniel should - all being well - reach the end of level 2 in the NCSC by the Summer, which is around A/S level standard. He should also be taking Drama Grade 8. Timothy hopes to finish NCSC level 1 around the same time, and is considering taking piano grade 5. We have our house here for yet another year, so we welcome any visitors whenever you'd like to come!
You can keep up-to-date with what we're doing at our family web-site; if you'd like to receive updates for prayer (1-2 per month) on Richard's work, via email, and aren't already on the relevant list, please let us know.
Best wishes for a happy Christmas,
Richard, Sue, Daniel and Timothy