Newsletter: Christmas 2005
2005 has been quite a year of milestones for the whole family. In particular:
ANNIVERSARY
We celebrated our 25th wedding anniversary in July. We found it hard to believe that so many years have passed since our wedding in 1980! We were able to take a few days' holiday by ourselves, and also had a party for our house group and a few other friends locally.
BLOGGING
We finally jumped on this Internet band-wagon, and started blogs (web-logs) which are a form of online journal. These have now replaced the family web-site on Geocities which was becoming so big that it nearly ran out of space. If you're interested in our daily life, you can read Sue's main Cyprus blog or if you'd like to know more about what Richard actually does from day to day, you can read his work blog.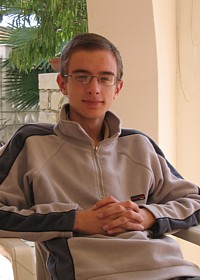 CHURCH
In January Tim spent some time standing in as organist at St Helena's, the Anglican church over the road from the Community Church.
Always the most Anglican of the four of us, he made the decision to attend St Helena's full-time in the early Spring. He has settled in well despite the lack of other young people. Meanwhile the rest of us continue to attend Larnaka Community Church, which has restructured this year with the introduction of an eldership. The congregation continues to grow although we haven't yet found a new building.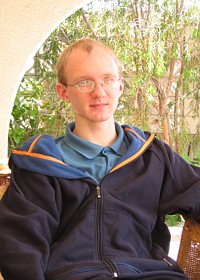 DOULOS
A major event for us this year was Daniel's spending two months on the missionary ship MV Doulos, the world's largest floating bookshop. He was part of a short-term international programme, while the Doulos travelled around Eastern Africa, and enjoyed it so much that he applied to join the ship for two years!
This was a complicated process including an interview in the UK, but he was accepted. Most of the financial support he needs has already been given or promised, so early in 2006 he will leave us to join the Doulos again. Dan's blog is called Brummie at Sea.
EDUCATION
Daniel is a couple of weeks away from finishing level 2 of the NCSC correspondence course, equivalent to A/S levels. He spent the past year (when not on the Doulos) fitting it in between his work for the local theatre group. Tim hopes to finish level 2 by next Summer; they've both decided not to continue to the third level. Dan may take a music or drama college course at some point in the future, and Tim's considering a correspondence course in theology as well as an IT certificate course, so neither of them needs any further school-level qualifications.
F-MEDIA
At last Richard has a team working with him, making his office quite crowded at times. He's still hoping for an administrator, but there's a networking expert, another IT person, a part-time accountant, and various short-term workers from Egypt. His workload doesn't seem to have reduced, though…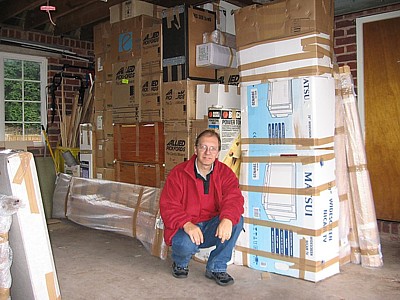 GOODBYE 191…
After eight years in Cyprus, we decided the time was right to sell our house in Birmingham. It needed a fair amount of maintenance, and we don't plan to return to the UK. One of the people living there hopes to buy it; negotiations have been proceeding for a couple of months.
In October we spent a few weeks in the UK, and cleared out the boxes and other items we had left in our house. We gave a lot to charity shops, but shipped seven and a half cubic metres – including a few pieces of furniture – out here. We've started house-hunting and hope to move to a place of our own in Larnaka within the next six months or so.
Meanwhile life continues as ever in between the milestones, though we anticipate plenty of changes next year. Please do stay in touch. If you'd like to receive regular email updates for prayer about either Richard's work or Daniel's travels, please let Sue know.
Wishing you a happy Christmas and every blessing for 2006,
Richard, Sue, Daniel and Tim