Newsletter: Christmas 2006
Dear Family and Friends,
We knew this would be a year of change. It seems as if it's mostly been a year of farewells. We said goodbye to:
- Daniel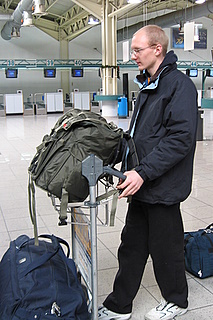 Dan went in January to join the 'floating bookshop' MV Doulos for two years and has been travelling around Asia. It was not easy to see him go, but we're delighted that he's thriving there and doing well. He started as a 'deckie' and was recently promoted to the fairly senior job of Waterman. He continues also to play the clarinet, guitar and percussion, takes part in drama and several national dance groups, and is in charge of the puppets on board the ship.
We send out a newsletter from Daniel about once a month; if you would like a copy, please let us know. There is also occasional news on his blog, Brummie at Sea
- Home education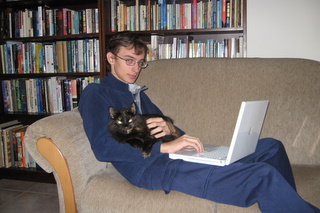 Daniel finished the last of the coursework he was doing shortly before leaving for the Doulos, and Tim finished his last few workbooks in September, shortly after his 18th birthday. Tim has now embarked on a theology course by correspondence, from the University of Gloucestershire, so in one sense he's still being educated at home. But he's officially a student now, and very much enjoying the course despite several administrative hiccups as he got started.
- The house we were renting
We finally sold our house in the UK, and bought one in Cyprus. The process took much longer than we had hoped, with a lot of frustrations along the way, but at last we moved out of our rental house in July. Not the ideal time to be moving in this climate, but we certainly appreciated the air conditioners which we have in almost every room. The house was excellent value due to not having any garden. But after nine years with an enormous wilderness of a garden, this is no problem. We did wonder how the cats would cope with the move, but thankfully they settled in happily and don't seem to have noticed the lack of garden.
There is a guest apartment on the ground floor, which – as we learned recently – sleeps up to six. If you would like to come and stay, please get in touch.
- Many friends
People come and go a lot in Cyprus. But we've never before had quite so many good friends depart for other shores in the space of a year. Friends of ours have left for the UK, America, Canada and France within the past eight or nine months, and we're about to say goodbye to one of Richard's colleagues who will be retiring to the UK with his wife in December.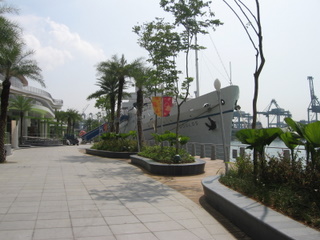 Still, there have been some high points to the year. Since we sold our UK home for more than we paid for the house here, we were able to buy a car which is newer than our other, 18-year-old estate car. We were also able to visit Daniel in November, when the Doulos was in Singapore.
Despite more grey skies and rain than England, we had a very good time; we mostly stayed on board the ship but had a few days out sight-seeing. We hope to visit him again next year in October, when Daniel's 21st birthday will fall on the same day as Richard's 50th.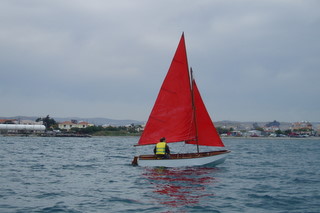 Richard has enjoyed learning to sail this year, having bought a second-hand mirror dinghy. He hasn't been out as often as he would like, but hopes to sail more next year.
Sue and Tim helped at an inter-church 'holiday club' in the summer, and Sue is now helping regularly at the local mothers-and-toddlers group.
Tim has become organist and choir director at the Anglican church: great responsibility but no payment, other than occasional fees for weddings or funerals. He has a new piano teacher, continues to take singing lessons, and teaches a guitar student.
With our love from Cyprus, and best wishes for a very happy Christmas,
Richard, Sue, Tim, and the four cats