Newsletter: Christmas 2007
Dear Family and Friends,
Yet another summary of a year in our life in Cyprus.
January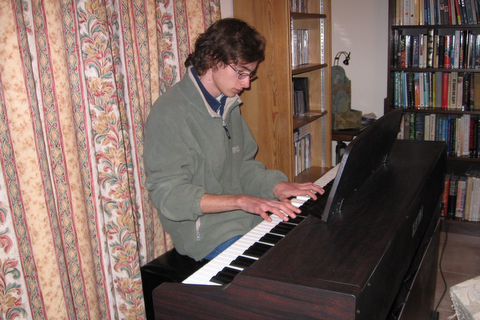 We spent much of January redecorating our guest flat, in preparation for visitors. We're really pleased that so many people have come to stay this year, and made use of the flat.
More are always welcome… and please don't feel that you would be imposing. The guest flat is self-contained, sleeps up to six, and you can see as much or as little of us as you wish, if you come and stay there.
Since our ancient piano is in the guest flat, with nowhere to put it in the main part of the house, we bought a Kawai digital piano for Tim at the end of January.
February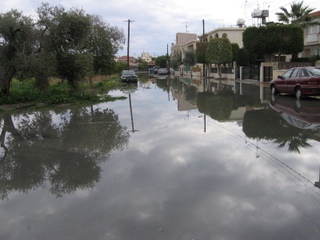 The beginning of February was extremely wet. Some neighbouring streets were flooded for several days, and we had to take a detour when walking to church or the office. But the sun shone between showers, and it began to feel a bit less cold.
By the time our first guests of the year arrived for February half-term, the sun had come out for most of the time. While we thought it was still a bit chilly, it was much warmer than the UK.

March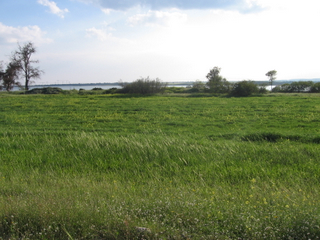 March is a transition month, weather-wise, in Cyprus. Sometimes it's still cold, sometimes lovely and sunny. Everywhere looks green after the winter rains, and there's a fresh breeze most of the time. It's an ideal time for guests, although we didn't have many in March.
This is a photo showing the Salt Lake in the distance. This is a natural feature which fills in the winter, attracting flamingos during the spring; then it dries out completely during the summer. The park next to it is less than ten minutes' walk from our house.
April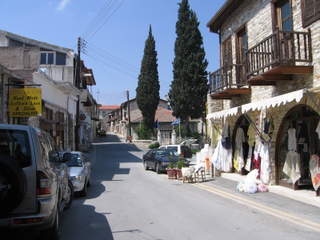 Several sets of visitors came in April, which was the busiest month of the year for the guest flat. Richard was able to take one or two days away from his work, and while our visitors mostly spent their time around Larnaka, we did a few trips out – for instance, Lefkara, shown in this picture, is an old village in the mountains where people make traditional lace and silver.
The skies were blue and the sun shining most of the month. Richard was pleased to be able to resume sailing at weekends.
May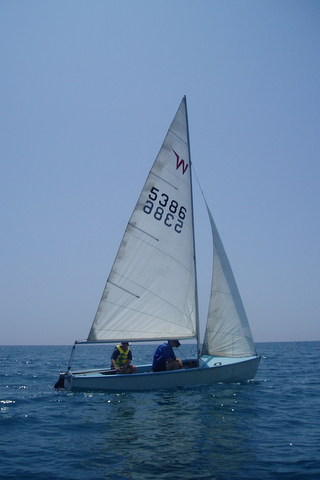 Despite the weather warming up, and being mostly sunny, a tornado hit Cyprus in early May. Although as far as we know, nobody was hurt, there was a trail of devastation around some of the coast. Alas, this included Richard's Mirror dinghy, which was thrown from one end of the sailing club to the other. There was far too much damage for it to be repaired, so he started looking around for another boat.
He had been thinking it was time for something a bit larger… and sure enough, he was able to buy, inexpensively, a Wayfarer which had not been sailed for five years. He has been enjoying this boat, going out for a short sail nearly every Saturday since May, although it has a great many ongoing repairs and maintenance to be done. If you're interested, Richard has a blog about his sailing trips

June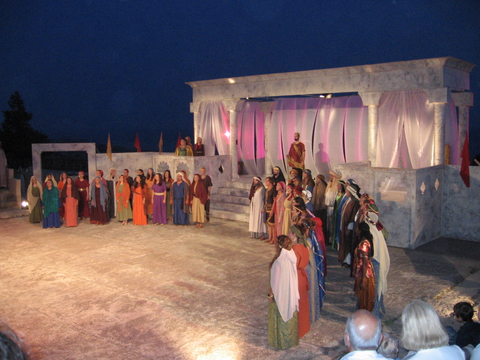 Much of this month was taken up with 'Esther', a musical based on the Biblical book, which was performed in Kurium by Premiere Group. Richard had agreed to produce a DVD for this, in his 'spare time', which will also be shown on Cyprus television next Easter.
So he was there for rehearsals, and to record the three nights of performance. Tim went too, helped with the setup, and recorded the sound. They have been working on the DVD sporadically since then, and it should be ready by mid-December.
July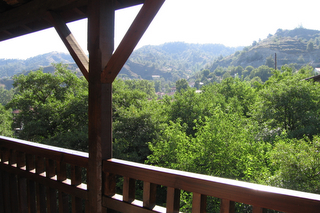 In July, Cyprus gets too hot and sticky for all but the most ardent heat-lovers. We are very thankful for our air conditioning.
For our 27th wedding anniversary, Richard arranged for us to stay at a hotel for a couple of days in the mountains. It was hot, even there, but much less humid. It was also very beautiful, and just an hour and a half's drive from Larnaka. It was lovely to get away from the coast for a while. Tim looked after the house and cats.
August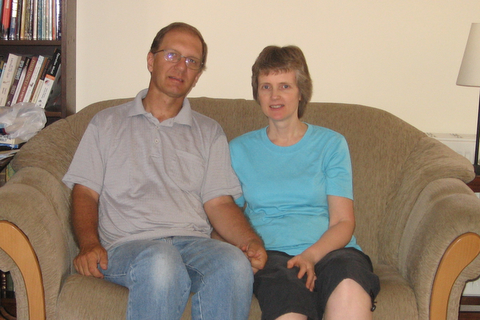 In August, we estivate (that's the Summer version of hibernate). At least, Sue does. Anything that needs doing outside is completed by 9am, or late in the evening. Thankfully the Post Office and most shops open by 7.30am.
Richard continued to work through the Summer, and Sue spent a lot of time updating her websites and blogs. Since August isn't a very photogenic month, and rather drags past, here's a photo of the 'aged parents', as Tim calls us.
September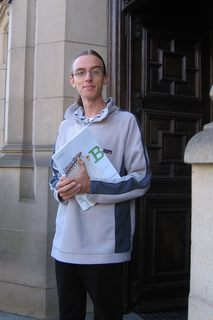 At the end of the first week of September, we flew to the UK for just over two weeks, where we seemed to race around seeing family and friends, and going to several meetings. It was great to catch up with some of you – and we're sorry we couldn't see more. But time was very limited. Tim was 19 towards the end of September. He has one year left to be a teenage rebel…. all he has done so far is to grow his hair long enough to be in a pony tail. We think it suits him.
Tim also started looking seriously at universities to transfer to in September of 2008. He is still working on a distance theology degree from Gloucester University, but would like to become a 'real' student next year. If possible, he wants to start primary education/teacher training – which is fairly unusual for someone who was home educated for the past ten years. Since the end of October he has been volunteering for a couple of mornings in a local English-speaking private school.
October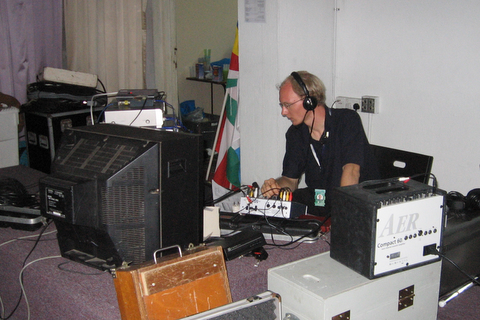 This was the big birthday month, where Richard was 50 and Daniel was 21, on the same day. Since Daniel couldn't come home from the Doulos, we spent a month with him. We met the ship in Hong Kong, sailed with it to Malaysia, and then took a break with Daniel in the lovely city of Kota Kinabalu.
Daniel – following somewhat in Richard's footsteps – is now in the audio-visual team on the Doulos, responsible for sound, lighting, special effects, and more. You can read more about Daniel's life and work on the Doulos, at his blog. We hope to see Daniel in the spring when he comes on furlough to Cyprus, before returning to the Doulos for another two years.
November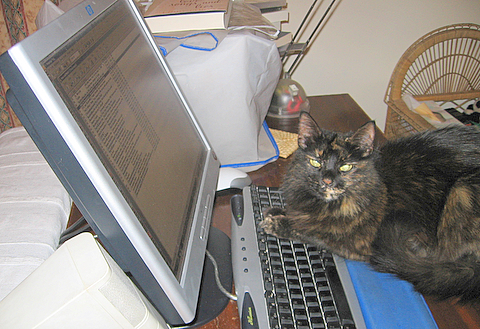 The weather begins to turn cooler in November, so we got out our warmer clothes, put duvets on the beds, and Richard serviced the central heating. Within two weeks, we had changed from tee shirts and light trousers to jeans, sweatshirts and fleeces.
In the last week of November, Jemima, one of our four cats, disappeared. We have no idea where she has gone. As I write, she has not returned, so we're down to a three-cat household.
December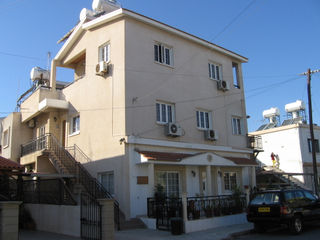 Tim is going to be very busy with Christmas music, as usual: he has been playing carols on the piano since the beginning of November, and is directing an inter-church choir to sing at the Festival of Lessons and Carols. We' had a very quiet Christmas last year – just the three of us – but will be having a larger group with us for the day this year.
Finally, a photo of our house. The guest flat is the ground floor. The skies can be blue and the sun can shine even in December, although it's been raining this week. But then Cyprus badly needs some rain; reservoirs will dry out by the end of the year if we don't.
Wishing you a wonderful Christmas and all the best for 2008.
Richard, Sue and Tim in Cyprus, Daniel somewhere in Asia