Newsletter: Christmas 2011
Dear Family and Friends,
We ended last year's newsletter with a hint of excitements in store for our family in 2011. The first one happened at the end of April: we became parents-in-law when Daniel married Becky. All went well at their wedding in Carlisle, with tremendous help from their local friends. They even succeeded in arranging warmth and sunshine! Becky was a lovely bride and we were delighted to welcome her to the family: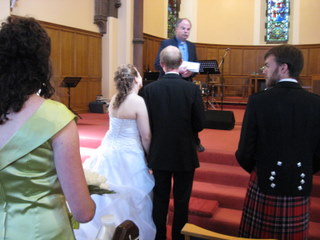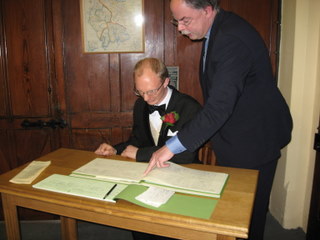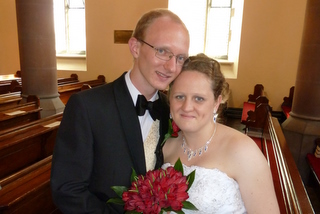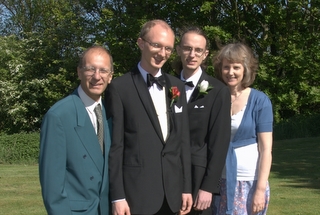 After a honeymoon in Scotland, Daniel and Becky returned to Carlisle and their work with OMNIvision.
For Tim, 2011 was also a milestone year in more ways than one. Before the wedding, he completed his dissertation and other third-year assignments, with Sue proof-reading. All was handed in before we drove up to Carlisle, giving him a chance to forget about work and concentrate on his role as one of the best men.
He did well in his degree, and accepted a place at Newman to do his PGCE (for primary teaching) in September. So our next big highlight as proud parents was seeing Tim walk across the stage at the Birmingham Symphony Hall to receive his degree certificate, at the end of October: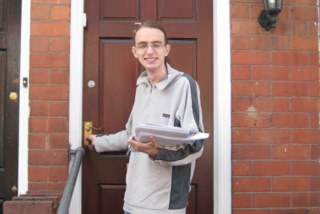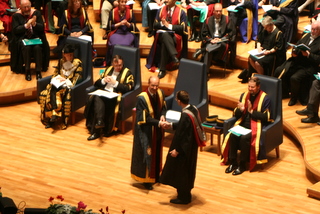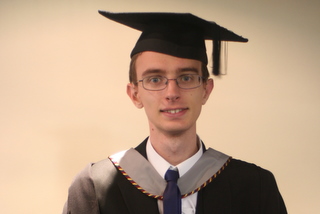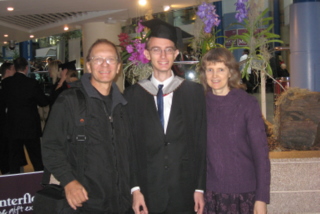 Unfortunately, after beginning his PGCE, Tim began to feel rather disillusioned about the state of primary teaching, and was then assigned to a school with children who are euphemistically described as 'behaviourally challenged'. Unfortunately, Tim's minor hearing problems meant that he was unable to hear some of what was going on in an acoustically poor classroom. He also realised that he could never be a military-style disciplinarian, which is apparently what is required in all but the smallest and friendliest of schools.
So, after much discussion and prayer, Tim decided to resign from his course at the end of November. He is currently considering various alternative options, and we're looking forward to seeing him at Christmas.
Meanwhile, here in Cyprus, Richard has been working even more hours than usual. At the start of the year, his organisation took over an exciting project which was, initially, funded from the USA. He supervised the editors and programmers and was thrilled that many people from Arabic speaking countries visited the website, downloaded the e-magazines, and took part in discussion forums. He felt that for the first time in many years he was able to use his creative skills, and do something directly that began to fulfil his original vision.
Alas, the funding was dropped, and at the time of writing most production work has ceased. Richard had realised that he could not continue working the long hours he had been doing anyway, and has been doing a three-day week since returning to Cyprus in November. He has been thinking about taking a sabbatical for some years - something which would have been expected long before now in many organisations - and has decided to do so for the first six months of 2012. Not that he plans to be idle; he hopes to write a second book, as well as considering his future, and, of course, doing some sailing.
Sue continues looking after the house and cats, entertaining various friends, writing, and maintaining her websites and blogs. She still doesn't have much idea what she wants to do when she grows up.
The cats are keeping well, if slowing down a little. Cleo is now twelve years old, and Sophia will attain that great age at the end of February. Some cats live well into their teens, sometimes even to their early twenties, so we hope ours will be amongst their number.
If you would like to visit Cyprus, please remember that we have a guest flat as part of our home, and that we always enjoy welcoming visitors.
Wishing you much love, a very happy Christmas, and a blessed and peaceful 2012.
Richard and Sue