Newsletter: Christmas 2012
Dear family and friends,
We ended last year's newsletter with a hint of changes afoot for us all in the New Year. We wrote about Daniel and Becky's wedding in April 2011, and Tim's graduation later in the year. But we had little idea what 2012 would hold. Richard was about to embark on a six-month sabbatical from work, and Tim hoped to find a job in Birmingham, having decided that primary teaching was not for him. Daniel and Becky were settling into married life in Carlisle, wondering whether they might return to Ships' Ministry at some point...
January to mid-February
The year started well. Richard organised what used to be Daniel's bedroom as an office/study, then spent the first month of his sabbatical working on the house, reading, developing a sailing website and working on the yacht King Malu. He became involved in some online discussions related to his ministry, and began to plan and write his second book. At the end of January, Daniel and Becky came to stay for a couple of weeks, and we had a great time together.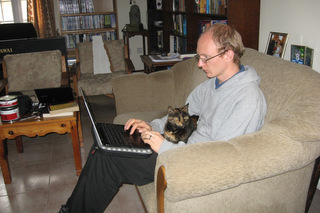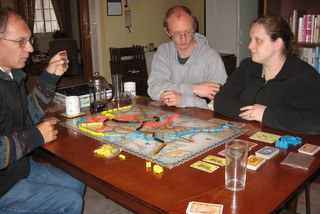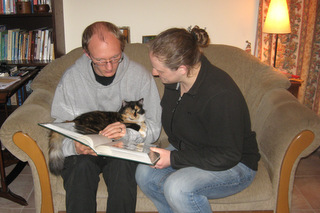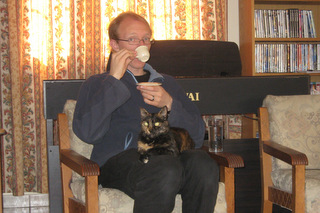 Mid-February to the end of March
The year-end accounts for Richard's ministry showed that with increasing electricity costs, and the loss of some significant US support, there was no money to continue in way it had been working. Added to this, Richard's two American colleagues, for different reasons, realised that they and their families would have to return to the US in the summer.
The trustees flew out for emergency meetings, during which it became clear that the office (about a mile from our home) would need to be closed as soon as possible. Richard still felt called to media ministry, so it was agreed that he could continue using the ministry name, if he could find two replacement trustees in the UK, and if he could work from home.
So Richard had to halt his sabbatical for a while, to wind down services, move or sell equipment, and finalise local accounts. He dismantled what used to be a recording studio in our guest flat, and built a video editing suite. Just to add to this depressing period, it was cold. It was the wettest, longest winter that we had experienced in Cyprus. It was good for the reservoirs and the general water situation, but still, rather miserable to live through.
Meanwhile Tim, in Birmingham, was beginning to feel a bit fed up as he had applied for many jobs, with no results...
April and May
April was warmer, but the first part went by in something of a blur. Richard spent most of his time working, in and out of the office, gradually transferring the essence of the ministry to our home. Then a few days after turning 51, Sue managed to stumble at the bottom of our marble steps, and broke a couple of toes. This made her almost entirely immobile for a couple of weeks, and she was not fully recovered until about two months later.
In the middle of May came the official office closure. We hosted a big gathering for everyone available who had been part of the ministry, and their families - 26 people in all - to celebrate the past ten years. There was still work to be done, though: clearing out the equipment, sorting ancient videos, and getting rid of accumulated junk.
Around this time, Daniel and Becky started looking more seriously at going to the Logos Hope at the start of 2013 for a couple of months. Tim was offered a part time freelance job - in IT support, for which he had no qualifications, but plenty of experience gained in Cyprus. It was not what he wanted long-term, but good for a while.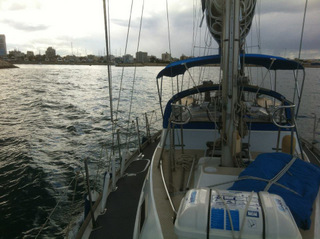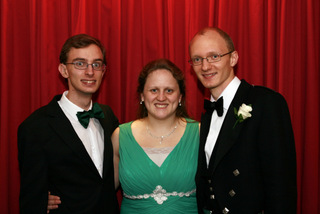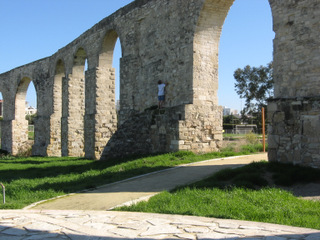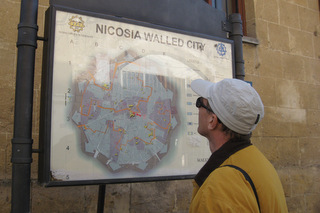 June and July
During June, Richard resumed his sabbatical and wrote some more of his book. He also spent time in email discussion with two friends who had agreed to become the new trustees. He continued to spend time sailing and working on the yacht too.
Tim decided that instead of visiting us in Cyprus during the summer, he would work as many hours as he could (essentially full-time) to fund an MA course which he had been accepted for at a London university.
August and September
Tim learned that he could do a similar MA course at Nottingham University for considerably less cost than the one in London. Since he doesn't much like London anyway, he applied and was accepted quickly.
We flew to the UK late August, seeing as many relatives as possible and attending our goddaughter's wedding. We were only there for two and a half weeks, in three places, so we were unable to see many people other than the family.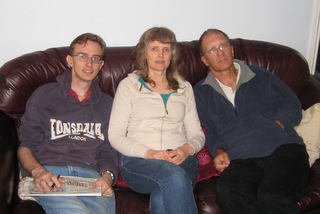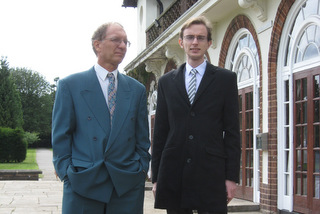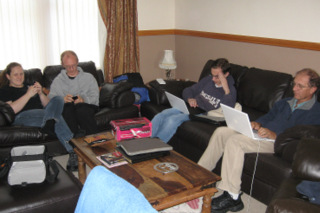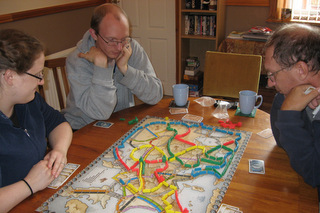 Back in Larnaka, September raced by, still hot and humid; Richard had extended his sabbatical in lieu of the three months' work on the office close-down. He did more writing and admin, and started to form a plan for the next few years. He was thrilled that the ministry received three substantial financial gifts in the second half of the year, underlying that there is still a great deal of scope for the future.
October and November
In October, Richard returned to work, now based at home. He spent considerable time transferring facilities to the new FM servers. With the cooler overnight weather, Sue started going for early morning walks by the Salt Lake with a friend: between 5km and 10km three times per week. It was a struggle to keep up at first, but she is now feeling fitter; she is also enjoying some stunning sunrises and the arrival of the flamingos.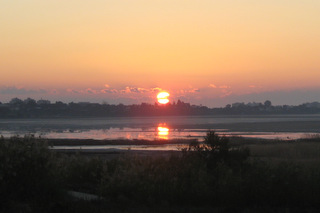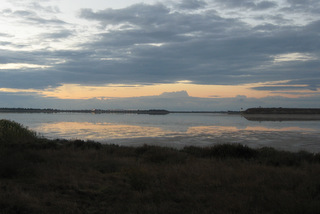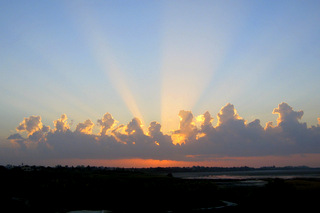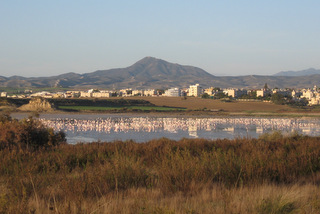 In November Sue took up (and completed) two online writing challenges. In addition, the founder and leader of the Larnaka Christian Writers' group has moved back to the UK. Sue will now be hosting this monthly group, and also leading it.
Daniel and Becky had hoped to come to Cyprus for Christmas, but at the start of November, they received an email asking if they could go to the Logos Hope at the end of November, at the end of the ship's lengthy 'dry dock' maintenance period. So they had a busy month, and flew to the Philippines to join the ship on the 26th.
Tim had a very nasty experience a few days before the end of November, on an extremely wet evening on his way to his house group. A speeding car hit him in the leg, knocking him off balance. He thought he was just bruised and shaken, but as the swelling went down, the pain increased and then his leg locked in a bent position due to muscle spasms. He had to see a knee specialist who pummelled it painfully for twenty minutes before it straightened again, but there is still some pain and lack of movement over a fortnight later.
December
The autumn and early winter have been mild so far; writing this on December 8th, we've only just put a double- thickness duvet on our bed, and still haven't switched on our central heating. It's a shock to realise that it's so close to Christmas; we are very much looking forward to seeing Tim, who arrives on the 14th, for nearly four weeks.
All in all, 2012 has been quite a year, with many unexpected changes for us all. We look forward to finding out what God has in store for us in the future.
Wishing you much love, a very happy Christmas, and a blessed and peaceful 2013.
Richard and Sue, and the three increasingly elderly cats