Newsletter: Christmas 2018
Dear family and friends,
It's been quite a year, one way and another. Sue has done a great deal of baking, after taking on the challenge to produce sixty different kinds of cake over the year following Richard's 60th birthday. She succeeded, and has discovered many different recipes in the process. We shared most of them with friends, so, thankfully, we haven't noticeably gained weight as a result.

In April we spent a couple of weeks in the UK, and helped Richard's mother celebrate her 90th birthday. It was great to catch up with several of Richard's cousins and their families, some of whom we had not seen in many years.

At the end of last year, Richard was given a significant gift from one of his US ministry funders, and was told to use it for himself, rather than for work. He had been looking at small sailing boats, bigger than his dinghy but smaller than the yacht King Malu. In the spring, he spotted exactly what he was looking for in Paphos: a Kingfisher yacht called Liza which needed some cosmetic work and new sails, but which he could sail by himself. So he bought her, and brought her to Larnaka, and has taken her out several times already with different friends.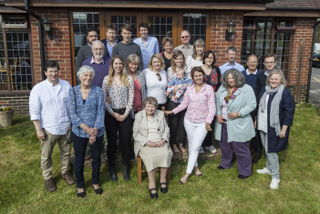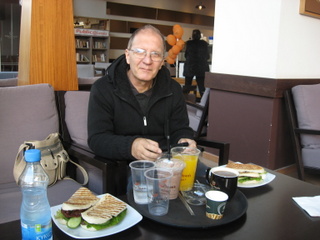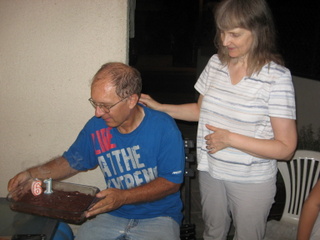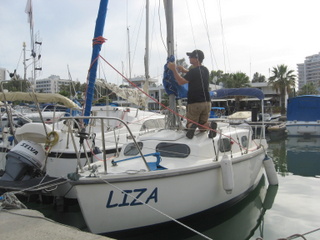 The next excitement of the year was an epic trip to Central America to see our family. Daniel, Becky, David and Esther have been on the Logos Hope for nearly fifteen months, now. They manage to call us on Whatsapp sometimes, but the Internet connection on board isn't great, and it's not ideal. We were worried that Esther, who was only eight months old when they left Cyprus in August 2017, would not remember us.

When Richard learned that the ship would be going through the Panama Canal late August, that determined our schedule, as it's something he had always hoped to do. We flew to Mexico late in July, reaching the ship a couple of days after our 38th wedding anniversary. Esther was a bit shy with us at first, but she was recovering from a yellow fever vaccination and also teething, so not feeling her best. David was as exuberant as ever, and thrilled to see us.
We were able to spend two weeks on the ship, then Tim flew out to join us and we had a week's break in a wonderful Air BnB villa a couple of hours' drive from Panama City. Renting a seven-seater van was not as straightforward as we had expected, but we acquired it eventually.

Tim landed a day late, and his luggage didn't arrive with him, or within the next few days. He spent a great deal of time on the phone, passed from person to person, which was excessively frustrating. It eventually turned up in Gatwick, but since it contained several presents for the family, he persuaded the airline to fly it to Panama, where it arrived a few hours before he returned to the UK.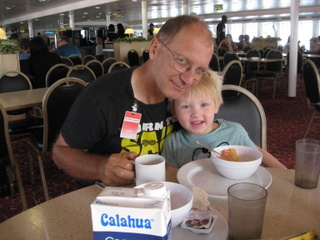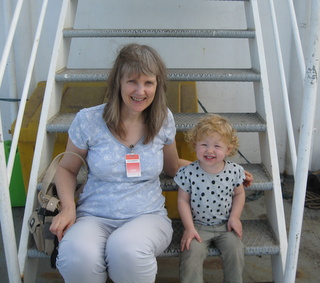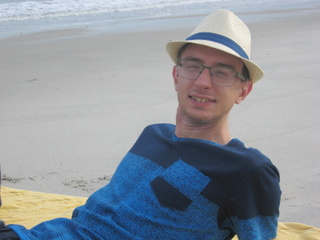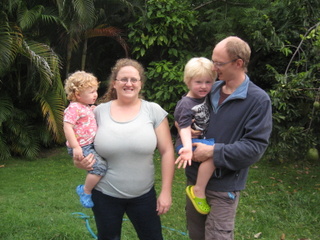 Space precludes us writing about the many people who have stayed in our guest flat this year. These included some friends whom we had not seen in many years, early in the summer; and more recently, Roger Jones and some of his team who were here for a tour with the musical 'Rock'. Richard provided the PA.

Tim will be joining us for Christmas as he usually does, and on Boxing Day he and Sue will fly to the UK for Sue's family's annual post-Christmas gathering. Richard will stay in Cyprus where the weather should be a trifle warmer.

We don't know what next year will hold. Richard's application for Cyprus citizenship is pending, but we do now have 'yellow slips' which recognise our being here legitimately. So we should be able to stay, though the exchange rate might plummet and it may become impossible to buy Marmite or Bournville chocolate. Assuming flights still happen and visas aren't too expensive, we would love to welcome more visitors here. If you would like to come and stay, please let us know as soon as possible. Our guest flat already has three or four bookings for next year.

Wishing you much love, a relaxing Christmas, and a blessed and peaceful 2019.
Richard and Sue